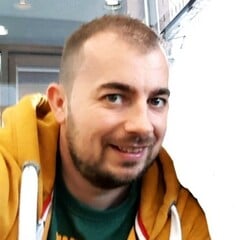 Andrew Finch
Lead Environment / Lighting Artist - Rare - Microsoft
Wolverhampton, United Kingdom
Summary
Industry Experience
Current Position in the Industry:
Rare Microsoft
Lead Environment Artist / Lighting Artist
September 2015 – Present
Sea of Thieves
________________________________________
Codemasters Studio Birmingham – Senior Environment & Lighting Artist
July 4th 2014 – September 2015
Codemasters – Experienced Artist
March 2010 – July 4th 2014
Games released for Codemasters:
F1 2015 – Senior Artist & Lighting Artist
This is one of my proudest games to have worked on, as I feel I had a huge role in the artwork and overall look of the game. My role on this project was to push the visuals as close to photorealistic as possible using a brand new engine and lighting techniques such as Physically based rendering. I helped Prototype tools and workflow in order to get the right standards for next generation consoles. I played a big part in bug testing tools and communicating with the code team to solve problems and get extra tools required for the art team. My role on this project was not only my environments but the game as a whole touching on all aspects making sure they hit the quality bench mark that was set.
F1 2014 – Senior Artist & lighting Artist
F1 2013 – F1 2013 DLC – Experienced Artist & lighting Artist
F1 – Race stars DLC – Track Group Lead (in charge of 3 artists)
F1 – 2012 – Experienced Artist – A hand in lighting
F1 – 2011 – Experienced Artist
Operation Flashpoint – Red River – Experienced Artist
________________________________________
Rebellion – Environment Artist 2007 – 2010
Unannounced Project – PC – Xbox – PS3
At preproduction stage. My job is to create a concept environment of the highest quality which will front the pitch to the publisher. In addition, I have been creating modular building assets in preparation for full production.
Rogue Warrior – Bethesda Soft Works – PC – Xbox – PS3
Released Dec 2009
For this project I was in charge of 2 multi-player levels; tasked to create the entire environments including modelling, texturing, lighting, set dressing and post effects. I managed the 2 levels through the bug-fixing stages and was relied upon to maintain fully functional playable levels at all times. For the single-player, I produced the white box, and completed the level to 70% before moving on to multi-player.
Star Wars Battlefront Elite Squadron – Lucas Arts – PSP – PS2
Released October 2009
My job for this project was to improve and maintain environments. I was relied upon to create great looking environments but keeping to the specific art direction of Lucas Arts. Also to push the art as far as I could under the restrictions of the technology. I modelled, textured, lit and vertex painted during this project.
Shellshock 2 Blood trails – Eidos – PC – Xbox – PS3
Released Feb 2009
I was placed jointly on one environment until I had learned the engine tools I was then placed in charge of an environment at third pass art stage until project completion. I created textures and set up materials. I also lit parts of the level, placed set dressing objects and PFX to create an atmospheric environment. I was also put on bug fixing for 2 environments and asked to maintain a working level for the remainder of the project.
Summary
At Rebellion, my responsibilities include:
• managing levels from design concepts to final polished and bug-fixed stage
• the creation of the white box layout of levels; first, second and third art passes
• texturing and material set-ups, set dressing and lighting for the whole environment
• taking responsibility for other levels to achieve a professional standard
• helping with asset direction
• mentoring other artists and sharing knowledge of the tools
• working closely with designers to ensure levels run and play as well as possible
• researching ways to improve the tools and requesting new features to the code team
________________________________________
Personal Achievements:
• I have written a book focusing on creating game art to a professional level in the aim to help other artists trying to break into the industry. This book can be seen in the 'Work' section of my portfolio.
• Recently completed a project for 3D World Magazine, a 6 chapter tutorial series running in their monthly magazine, focusing on Unreal 4 and creating a Next Gen environment. As well as tutorials I also write software reviews.
• I write tutorials quite regularly for 3d Creative Magazine mainly focusing on game artwork but have also written about lighting with Mental Ray.
• Many of these tutorials have been made into EBooks available to purchase from 3DTotal.com
• I have also had tutorials published in the 3DSMax Essentials Vol 2 book.
• I have also had tutorials published in the 3DS Max Projects which contains some of my work.
• I was accepted into the Digital Art Masters book series for a photo realistic rendering of a 'Control Panel' available to see in the 'Work' section of my portfolio.
Software proficiency